Terror Victim Kin Slams Anti-Trump Women's Protest for Giving Role to Bomber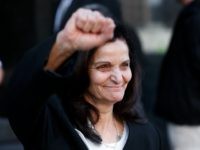 Terry Joffe Benaryeh, the niece of one of two men murdered in the Palestinian terrorist bombing of an Israeli supermarket in Israel, is slamming the involvement of Rasmea Odeh, one of the alleged perpetrators of the attack, in an upcoming women's protest against President Trump.
"[E]xplain how my family is supposed to reconcile the reality that the woman who stripped my uncle of his life is now deemed a hero by many of my fellow Americans," Benaryeh wrote in an op-ed she penned in the Huffington Post. "What justification is there for Rasmea Odeh, a woman who killed two people (with the intention of killing more!) to lead a peaceful fight for human rights?"
She asked, "What is the difference between the acts of Omar Mateen, Tamerlan and Dzhokhar Tsarnaev, Dylan Roof, and Rasmea Odeh? There is no difference. They all carried out acts of terror in the name of their causes, which resulted in the death of innocent civilians. Whether they were targeting the LGBT community, Americans, African Americans, or Jewish Israelis, these were all terrorist acts." The Day Without A Woman protest is scheduled to take place on International Women's Day.